UML News is a continuously scrolling feed of news and insights on your artists and their songs from the top streaming and social partners, including Spotify, TikTok, Instagram and Shazam. When your artist has a new alert, it will appear at the top of their feed instantaneously, giving you quick insight into the marketing activity around your song.
To get to the news feed, click the News icon at the top right.

Use the filters to view by track or choose which event types you'd like to see. Uncheck the boxes to remove any events.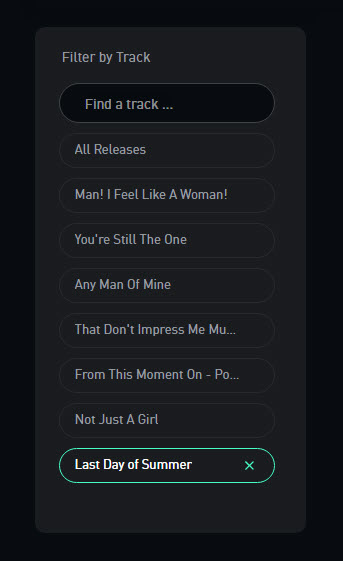 Click into the news item to see deeper insights that will help you understand the full context of the alert and help you make key marketing decisions.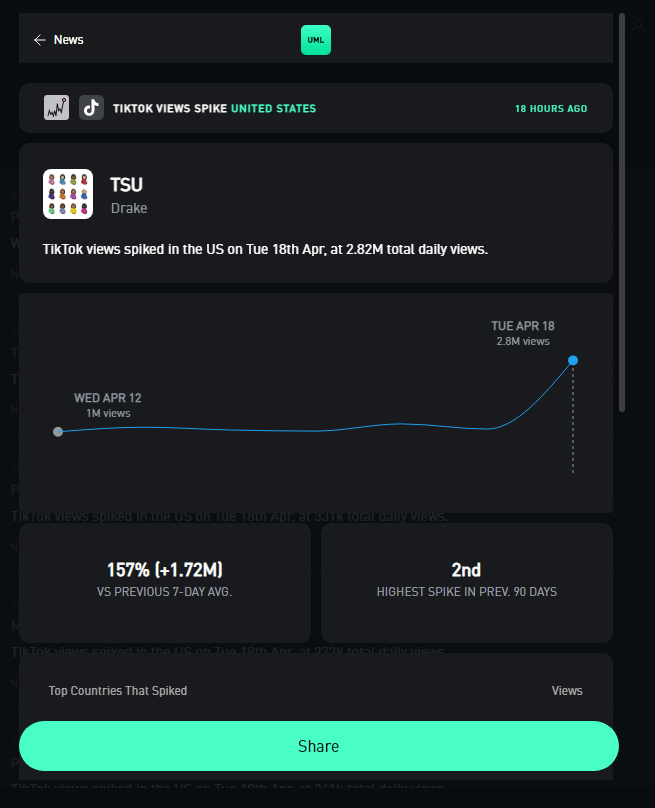 Share the news with your coworkers or partners by clicking the Share option and sending the alert as an email or image download.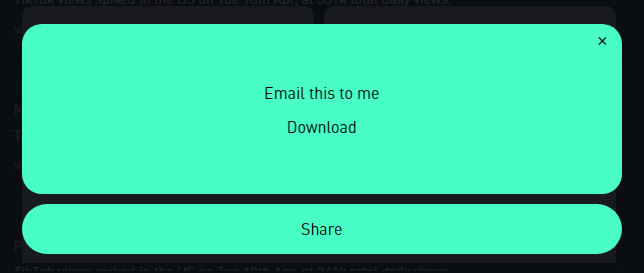 Here are the types of events that will show up on your artist's news feed:
A song from the artist has a new peak position on the Spotify charts. It will also show you all that day's chart peaks from around the world.
A song reached a significant streaming threshold. (10k, 100k, 1M, 10M, etc.) Click the item to see how fast it reached that milestone compare to previous songs.
A song from the artist has been added to a top Global playlist. If you have selected a preferred territory in the settings page, you will also see top local playlist adds.
Spotify Release Comparisons
A new release from the artist outperforms their previous release or highest streamed track. Click the item to see a graph charting the stream comparisons over 90 days.
A song saw a sharp increase in daily global streams. Click the news item to see the source of spike and any playlists driving major streams.
Instagram Top Performing Posts
An Instagram post was in the artist's top 5 most engaging posts in the past 90 days. Click the news item to compare the likes and comments per follower to other recent posts.
Shazam tags of a song spiked, with data on how many tags and what hour the spike occurred.
Views of TikToks featuring a song by an artist you follow increased sharply, helping you detect activity on the platform. Includes information on the top countries, and average engagement and creation rates of the song on TikTok.
If you choose your business country and allow for localized alerts, you'll receive Global and your country's localized alerts. If you choose not to select your business country, you'll receive Global alerts and a selection of alerts from the top markets.
If you want to get instant alerts when new UML News insights are available, make sure to sign up for UML email alerts.
Search for your artist or song and click "Follow".

In the "Followed Artists" tab, choose if you'd like to turn on localized alerts for the artist.

2a. You can also choose to auto-localize all alerts for each new followed artist from the start by going to the "Settings" tab and choosing Auto-localize.

On the "Alerts" tab, toggle your alerts on and you're all set!